Meet the Veterinarians & Team of Hatton Veterinary Hospital! We're pleased to provide exceptional vet care for your pets!
We are solely dedicated to your pet's care! We look forward to getting to know you, and we hope you'll take the time to scroll down and get to know us.
Registered Veterinary Technicians
Dr. Takata
Veterinarian and Medical Director
Dr. Laura Takata has been practicing since 1986 and went to school at UC Davis, BS in Wildlife and Fisheries Biology, then UC Davis, Doctor of Veterinary Medicine. After many years of practice, Dr. Takata has developed a good intuitive sense when it comes to understanding and diagnosing a pet's illness. She puts her heart and soul into her work and takes her job very seriously. She tries to treat her clients like family and treat her patients as if they were her own.
In her free time, she loves to cook (vegetarian/vegan foods), and when time allows, she hopes to get back into practicing and playing the ukulele. She loves to spend quality time at home with her family and pets. Dr. Takata likes to hike in the Sierras and spend time on the Coast. She looks forward to continuing her studies in Chinese acupuncture and herbal medicine.
Dr. Hatton
Doctor
Dr. Hatton and his wife Elizabeth opened Hatton Veterinary Hospital in 1993 after moving from the Greenhaven area, where he owned and operated Greenhaven Veterinary Hospital, and first met both Drs. Takata and Ku. He is a graduate of the University of California, Davis School of Veterinary Medicine and has a particular interest in general and orthopedic surgery
"My hobbies include sailing, fishing, woodworking, and spending time with his grandson (usually fishing!)."
Dr. Ku
DVM
Dr. Gloria Ku has been practicing for over 30 years and graduated from Dartmouth College and UC Davis School of Veterinary Medicine.
She enjoys working with families and individuals to provide the best care they can for their animal companions. She has a particular interest in acupuncture as an adjunct to traditional care, dentistry, surgery, internal medicine, and geriatric care. Fostering her relationships with animal companions and nurturing her shared quality of life is her motivator.
Dr. Ku enjoys hiking with her dogs, traveling to new places, and trying new foods, especially in the company of family, friends, and their pets too!
Dr. Chen
Associate Veterinarian
Dr. Brian Chu attended the Purdue School of Veterinary Medicine and has been practicing for ten years. He believes each pet is an individual and a treasured member of the family. His goal is to keep pets healthy so that they can spend as much time with their humans as possible.
In his free time, he likes to build Lego models, play video games, cook, bake, and eat.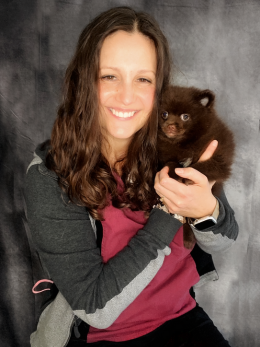 Dr. Cleary
Associate Veterinarian
Dr. Cleary is from the foothills just outside the Sacramento Valley. She received her undergraduate education at UC San Diego and graduated from the UC Davis School of
Veterinary Medicine in 2013. She has one well-loved tortoiseshell kitty at home along with her husband Hai and a greyhound niece, and 11 kitty nieces and nephews. Dr. Cleary has an interest in preventative medicine and dentistry.
She is a devout cat lover but enjoys caring for her canine patients, also. Her non-fur ball interests are sewing and scuba diving. She is also the Ms. Fix It at her home and for her two sisters. She is an equipment enthusiast at home and at the clinic. Dr. Cleary has several cameras for macro eye photos in the clinic and for taking photos while diving.